AI

-Assisted
Neuro-Oncology

Every year, thousands of brain tumors are missed because of the limitations of human cognition, denying patients the best possible care.

With automated detection and tracking, our mission is to make cancer diagnosis and treatment faster and more precise.
1/3
of
17M
new cancer patients per year will develop brain metastases
2-10
follow‑up brain MRI are required to
monitor
treatment response and identify relapses
1000+
images are reviewed for
each
MRI session
AFX Medical
develops software solutions for identifying and tracking brain metastases
AFX-BM
is intended to assist radiologists and radiation oncologists in their clinical workflow by integrating seamlessly with existing PACS infrastructure.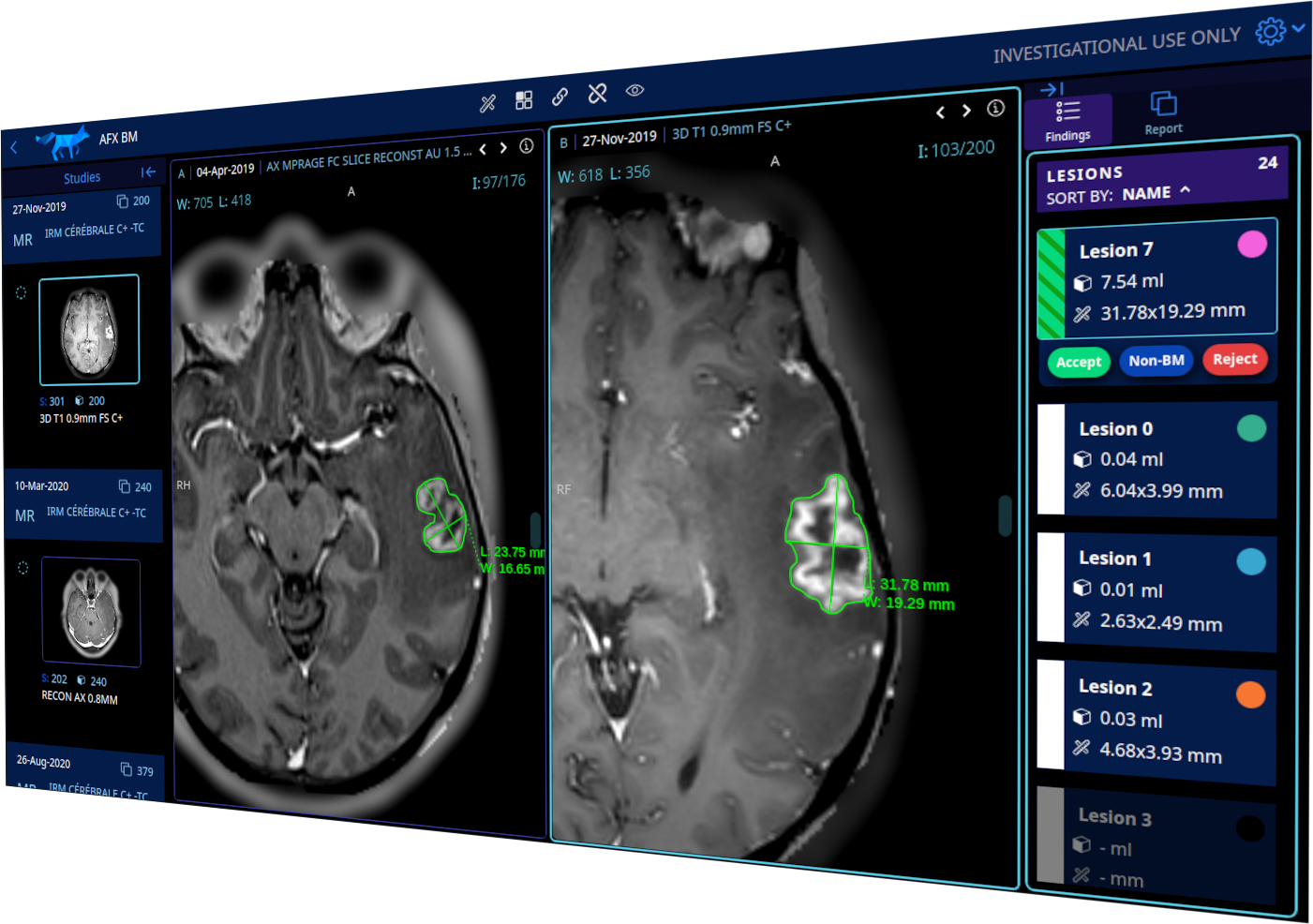 Detection and measurement
AFX-BM suggests the location of potential brain metastases on contrasted T1 brain MRI images.
Largest bidirectional diameters are automatically derived from the generated segmentation.
Identify findings
Individual findings are listed along with their size for easy navigation.
Once approved, each finding is assigned a unique lesion label, persistent across studies.
Longitudinal tracking
Approved findings corresponding to the same lesion are automatically associated between studies.
This association enables longitudinal tracking of individual lesion, facilitating estimation of clinical endpoints like RECIST or RANO-BM.
Comprehensive report
Detailed PDF report, concisely summarizing longitudinal data, including tables of tracked findings and graphical displays of lesion size progression.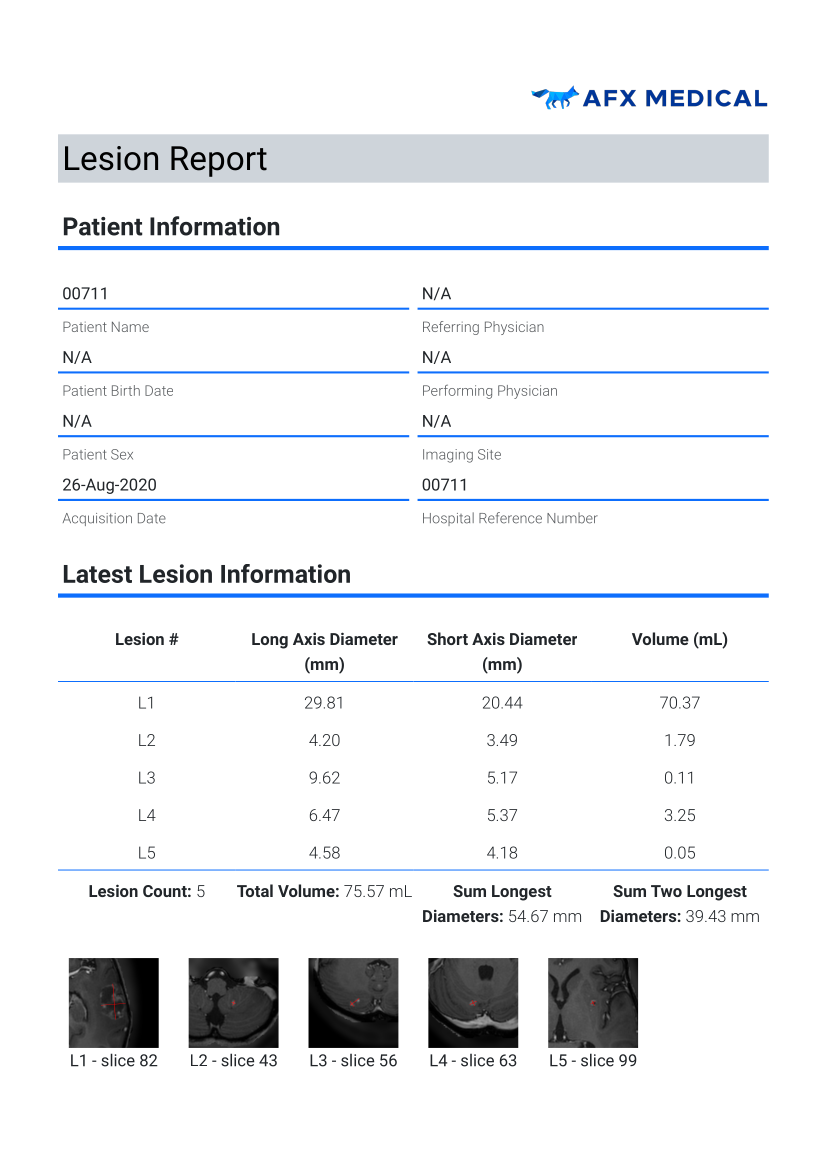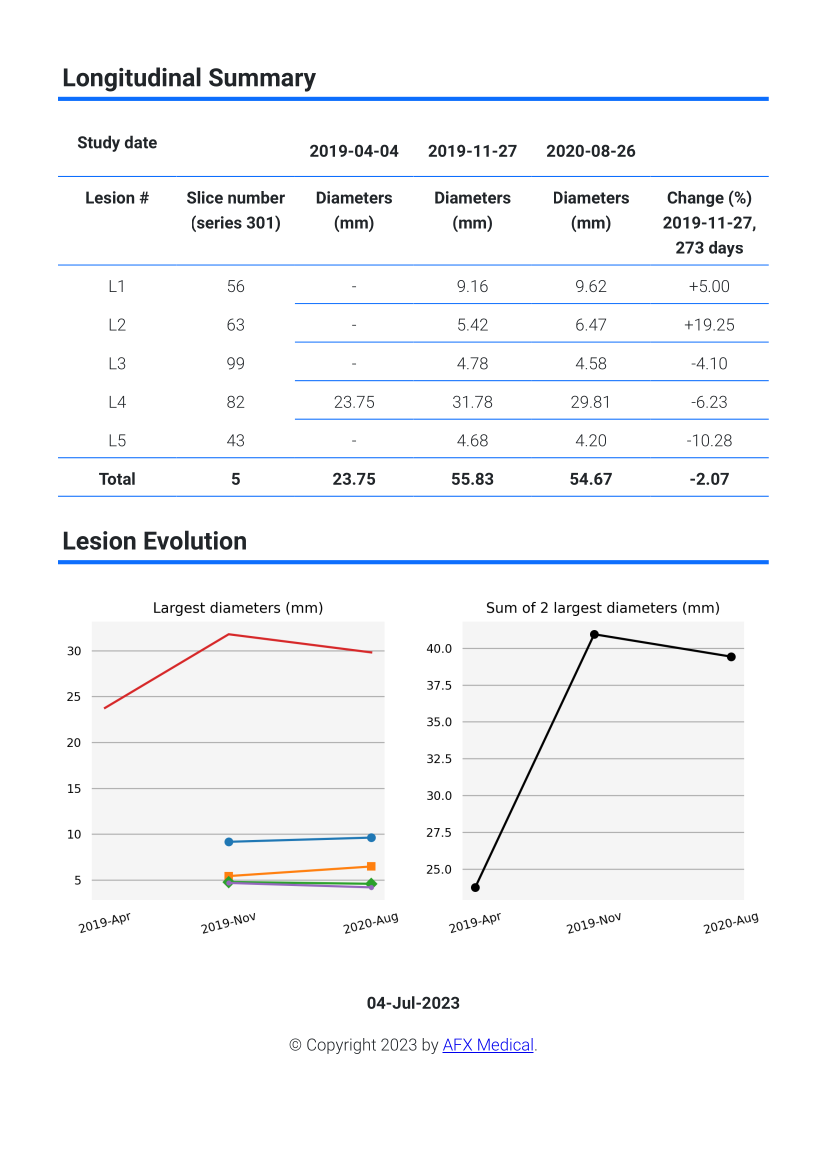 Research
6/27/2022
Automated Detection of Brain Metastases on T1-Weighted MRI Using a Convolutional Neural Network: Impact of Volume Aware Loss and Sampling Strategy
Detection of brain metastases (BM) and segmentation for treatment planning could be optimized with machine learning methods. Convolutional neural networks (CNNs) are promising, but their trade-offs between sensitivity and precision frequently lead to missing small lesions.
View publication
12/14/2022
The lost metastases: Deep Learning's Potential in Radiosurgery Quality Assurance
The multi-tier radiosurgery workflow at our institution left very few unidentified brain metastases (0.8%). Despite this low error rate, our AI algorithm still detected two lesions that required further treatment.
View publication
12/13/2017
Deep learning : A primer for radiologists
This review illustrates key concepts of deep learning necessary to understand its application to images, describes emerging clinical applications in radiology, and discusses technical requirements and future directions in this field.
View publication